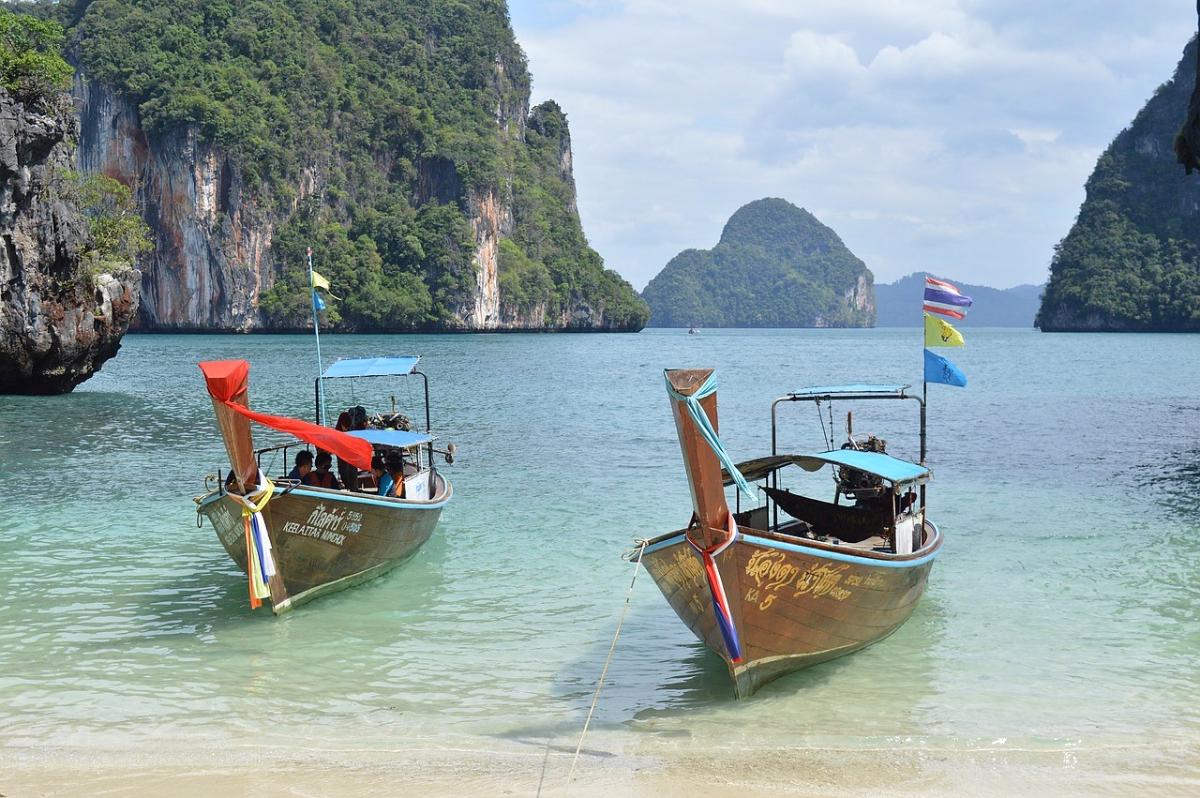 Snorkeling with "Love Andaman" (1Day)
Travel Information
Travel Rate
วันที่ 1
Snorkeling Maya Bay -The Beach Snorkeling - Pileh Lagoon - The Viking cave Monkey Bay - Ko Phai Island
Go! Snorkeling <Koh PP & Bamboo> By Speed Boat
Traveling Everyday
Travel program
07:30 AM. Get ready& Check-In-Arrive safely at Love Andaman Pier (Pae Saeng Pier,Phuket). Check in and enjoy complimentary breakfast, snacks, bakery and drinks including coffee, tack the tea, and fresh fruit juice as you receive a program briefing from our beloved guide.
08:30 AM. Let's go! Hop on the speed boat and head to Phi-Phi Island!
09:30 AM. Maya Bay Time -Frist stop at Maya Bay, where the famous movie "The Beach" was filmed. Prepared to be amazed with the powdery white sand and indigo blue sea. Enjoy swimming and snorkeling above the the beautiful coral reefs or take some photos to bring beautiful memories (and some splendid Instagram shots)
10:30 AM. Pileh Lagoon – Visit the Pileh Lagoon, well-known as "The Swimming Pool of The Sea", the stunning closed-off lagoon of emerald water that lies in the middle of the island, C'mon what is more awesome than swimming in a giant lagoon in the middle of the sea?
11:10 AM. The Viking cave – Wander through the amazing Viking Cave, also called The Swift Cave, the gigantic cave in the middle of the sea discovered by ancient sailors.
11:20 AM. Monkey Bay – Arrive at the Monkey Bay to visit the cute little monkey tribe, the landowner who always comes out say hi to all the guest visitors with friend welcome
11:30 AM. Lunch time – After an adventurous morning, enjoy a delicious buffet lunch at a beachside restaurant on Phi Phi Natural Resort. Relax and feel to roam around, take a serene walk to see all the endless beauty of the island.
12:30 PM. Snorkeling Spot -It's snorkeling time A snorkeler's paradise, this a perfect spot for snorkeling where you will be enchanted with countless fishes and stunning coral reef.
13:30 PM. Bamboo Island - Next stop move on to Ko Phai Island (Bamboo), one of the stop places to visit where the unique crescent shaped beach stretches endlessly along the horizon, all covered by powdery white sands and surrounded by sparkling, crystal clear water. The inviting blue sea welcoming you all for the joyful, wondrous swin.
15:00 PM. Time to say goodbye – Hop on the boat and depart from Bamboo Island to our pier
16:00 PM. Back at the pier - Arrive safe at the pier and transfer back to the hotel with a pocketful of wonderful memories.
Please note: The daily program can change without prior notice due to weather and tide conditions.
................ End Trip ...................
TOUR INCLUDES:
Speedboat fare for Similan Island
Friendly English speaking guide with ecotourism mind (Chinese, Russia is available For Similan Program)

**For Program Surin, Koh Rok+Koh Haa, Phi Phi+Bamboo. Chinese and Russian Guide request need 8 Persons minimum of customers**

Light for breakfast, Lunch, Bakery, Soft drink, fruit, snack, (Seafood for Maiton island)
Snorkeling equipment (Mask, Snorkel, and Life Jacket)
National park fee.
Travel Accident insurance cove THB 1,000,000.- (Excluded lost , stolen or damaged items of personal belonging)
Including government tax
Children​ ​age between 4-11 years old or not taller than 120 centimeters are charged in children rate.
TRANSPORTATION: For other special zones extra charge THB 200.- Round trip (Program Maiton, Phi Phi, Rok, Surin, Similan) : Maikhao, Airport, Naiyang, Naithon, Chengtalay, Laguna, Bangtao, Layan, Surin,Beach, Ao-Por, Pakklok, Cape Yamu, Panwa, Naiharn, Rawai, Tritang.
Remark:​ Sirey Zone charge for program Similan and Surin only
Note:
Tour program subjects to change depending on tide and weather condition
Please advise special meal requirements (Vegetarian food) or allergies.
Copy of customer's passport or id is required when booking Similan Islands program.